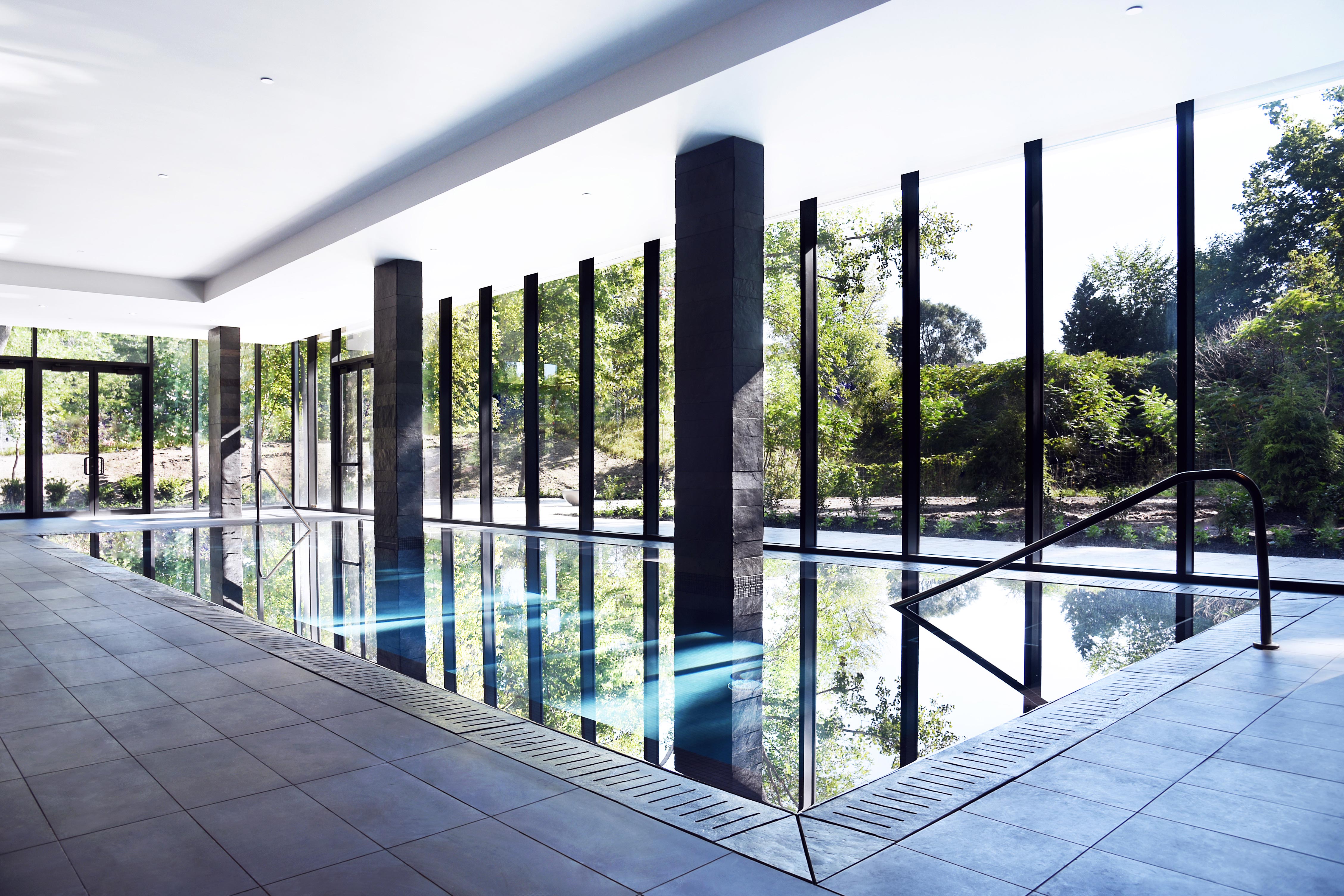 October 31ST, 2018. Laval, Quebec—Quorum and Groupe Marsan unveiled the eagerly awaited spectacular common areas of the L | L sur le Lac luxury condominium and penthouse development in Laval-sur-le-Lac on October 11th, 2018. Special guests included iconic Quebec designer and artist Jean-Claude Poitras, whose specially selected art piece captures the essence of the project's architectural design now permanently displayed in the lobby of Phase I. Also present were the creators behind the award-winning architecture and design, Joanne Godin, architect, associate and director of design at Lemay, and Alain Desgagné designer and founder of Innédesign.
The building common areas include a private lounge space with its beautifully landscaped terrace with exterior fireplaces as well as the heated indoor infinity pool, the state-of-the-art fitness room and the art studio exclusive to the residents.
"We are extremely proud we are to be able to showcase this spectacular architectural accomplishment," co-president Peter Cosentini of Quorum said. "We are also delighted that so many of those who have been involved with the project could join us here this evening. It takes a team to bring a development like this to fruition, and their strengths are obvious in the result."
"We appreciate the confidence the new residents of L | L sur le Lac have placed in us," Philippe Marsan, CEO of Groupe Marsan, co-developer and co-builder of L | L sur le Lac noted. "They recognized early the uniqueness of this project, its beautiful natural setting and the superior living environment that reflects their values and enables their lifestyle. L | L is the only project in Laval-sur-le-Lac that allows buyers to embrace the high-end condo lifestyle."
About L | L sur le Lac
L | L sur le Lac is a four-phase, over $100-million residential project located on the Mille Îles river and adjacent to the prestigious Laval-sur-le-Lac golf course. Sales of the first three phases indicate the strong market for luxury condominiums in Laval. Each of the phases includes 24 to 30 exclusive high-end condominium and penthouses ranging from 1,500 to more than 4,000 square feet. Phase I welcomed its first residents last May, Phase II this fall and Phase III is currently under construction.
The interplay of complementary textures and materials, including steel, wood and slate marry beautifully with the building's floor-to-ceiling windows and transition tastefully with the natural landscape and the manicured grounds. L | L sur le Lac has already won two prestigious International Property Awards this year, a first for a residential development in Laval, as well as the 2016 Prix Habitat Design.
About Quorum
Quorum was founded by Guy Laporte and Peter Cosentini, and has been active in real estate development and construction for more than three decades. Since the company was founded, thousands of homeowners have placed their trust in Quorum to provide them with a home that meets the highest standards in the industry. The excellence of Quorum's work has earned the company the highest distinction in the residential construction industry, the Palme Diamant Maître Constructeur awarded by the APCHQ.
About Groupe Marsan
Groupe Marsan, also a Palme Diamant Maître Constructeur award recipient, maintains a stellar reputation for its flexibility and for building trusting relationships with customers. The constant evolution of the company's real estate projects is based on the organization's constant commitment to technological innovation and superior new product development
Visit the project website at llsurlelac.com
-30-
Media contact:
Sonia Swift
Marketing Director, Quorum
sswift@quorumcanada.com
514 822-2882 x 234
L | L sur le Lac Presentation Centre
1300 Rue Les Érables
Laval-sur-le-Lac, Quebec H7R 0G7
450 500-0667
llsurlelac.com
Opening Hours
Monday to Wednesday: noon to 6pm
Thursday and Friday: closed
Saturday and Sunday: noon to 5pm
To visit on location: Two fully decorated model units as well as the swimming pool, gym, lounge and art studio.